OUR FACEBOOK LINK> BENT COUNTY REC LEAGUE
        Adult Basketball League: Team / Competitive (4 on 4)
Teams= Each team must have name for scheduling (4 on 4)> 6 players max per roster
Officiating= Teams will be assigned games to officiate when not on the court  
Rules= casual  ( see link below)  
Schedules= SEE below. 
Player Conduct rules: NO verbal and physical abuse will be tolerated at the BC Community Center. (Violators will be dismissed from the League)
NOTE: This is a adult league> 

Please ensure your children under the age of 13 years must be accompanied by a adult. For safety reasons we will not allow children to attend games without active supervision. If we feel a situation is unsafe our staff will ask the parent to assume supervision immediately. Your cooperation is greatly appreciated. 
| TEAM | Games Played | Win | Loss | Pct (%) |
| --- | --- | --- | --- | --- |
| BALLERZ | 0 | 0 | 0 | |
| BRICKSQUAD | 2 | 1 | 1 | |
| CHINGONES | 0 | 0 | 0 | |
| NONAMES | 1 | 1 | 0 | |
| OLD HEADS | 1 | 0 | 1 | |
---
| Week 1 | 5.13.22 | Score | | 5.14.22 | Score |
| --- | --- | --- | --- | --- | --- |
| 5pm | Bricksquad vs NoNames(W) | 77-81 | 230pm | Chingones vs Ballerz | re-schedule |
| 630p | Bricksquad(W)vs Old Heads | 106-91 | | | |
---
| WEEK 2 | 5.20.22 | Score | 5.21.22 | | Score |
| --- | --- | --- | --- | --- | --- |
| 5PM | Bricksquad vs Ballerz | | 10AM | Chingones vs NoNames | |
| 630PM | NoNames vs Old Heads | | 1130AM | Old Heads vs Ballerz | |
---
| WEEK 3 | 5.27.22 | Score | 5.28.22 | | Score |
| --- | --- | --- | --- | --- | --- |
| 5PM | Ballerz vs NoNames | | 10:00AM | Chingones vs Old Heads | |
| 630PM | Bricksquad vs Chingones | | 1130am | Make up | |
| | | | 100pm | Make up | |
| End of Regular Season | | | | | |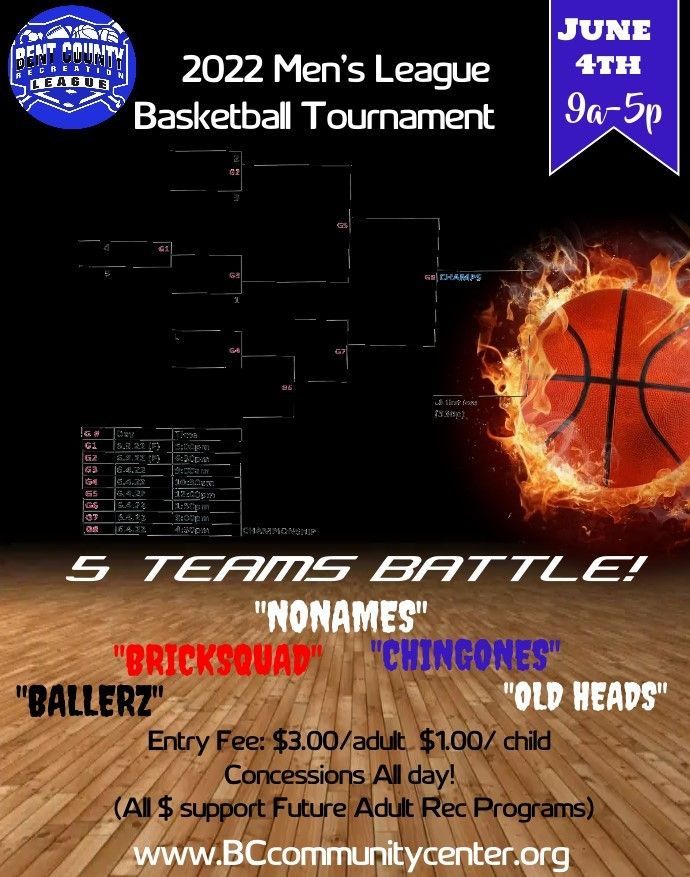 ADULT BASKETBALL RULES 2022